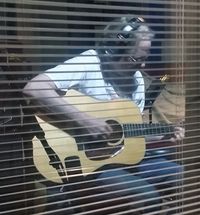 Recording the new album has begun! We spent 6 hours last Saturday March 25, at Blue Seven Audio with recording engineer Chris Scott Cooper laying down guitar tracks for three songs, Wild Mountain Thyme, Monkey and The Mushroom and Love is Forever. 

Phil and I sat  on separate sides of a glass door so that the sounds of the guitars would be recorded on different tracks. That makes it easier to balance the guitar sounds later. 
We got a lot done and took a few breaks to hang out together and talk about music and mutual friends. 
Here are two short videos of Chris at his desk and Phil and I warming up.